THE EVOLUTION OF ROOTS
Proper aeration and moisture retention are crucial aspects for successful plant growth. Our plugs are made with peat and coir, using our proprietary binder to create and ideal environment for propagation.
FleXi Plug
FlexiPlugs® Give Young Plants a Stronger Start. FlexiPlugs are created by blending the highest quality peat with other organics and a foam binder.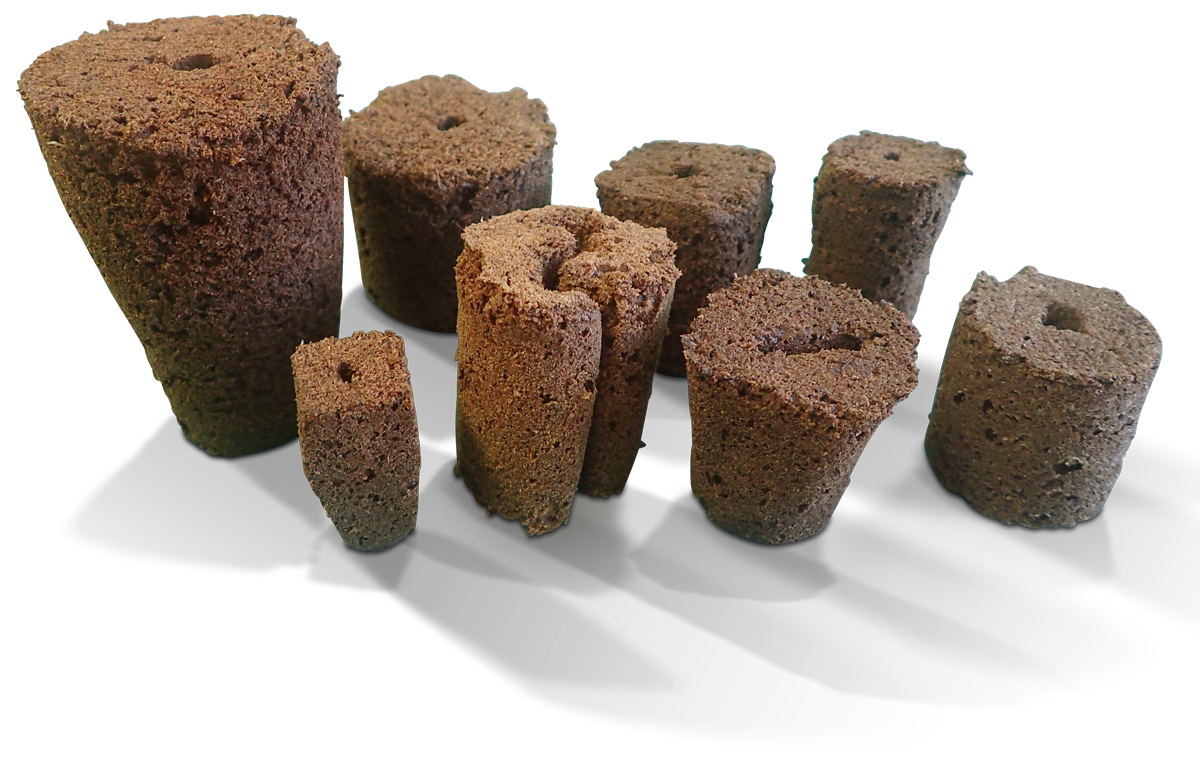 The result is a stabilized propagation medium that promotes faster rooting for cuttings while providing the consistent moisture needed for seed germination. This optimal environment is a result of the FlexiPlug's aeration and water retention capabilities.
Our pH balanced plug also contains micronutrients and active biologicals so it has all the elements needed to promote healthy root growth and young plant vigour. FlexiPlugs are an ideal growing medium for traditional greenhouse and hydroponic growers. Plugs remain stable in hydroponic production and won't clog filters.
Xcel Plug Trays
Our pre-filled plug trays are "ready-to-use." Efficiency is greatly improved due to the ability to transplant young plants earlier and faster, while maintaining greater control over the entire crop cycle.
- FlexiTrays arrive pre-moistened. Add water only if needed.
- Mist seeds/water in cuttings. Plugs should be moist to the touch, not wet.
- Watering requirements will change based on type of plant and the growing environment. Monitor as needed. FlexiTrays have excellent water retention characteristics so be sure not to overwater. Before transplanting out of trays, dry plugs down for easy removal.
Xcellent Plug
The unique (patented) design of the plug creates the perfect condition for inserting the young tissue culture plant into the plug, minimizing the risk of damaging the root structure.
The overall composition of the plug ensures that the optimal amount of air and water can be provided to the root zone creating uniform growth of your precious lab plants.
The Xcellent Plug® comes in bulk cases and the matching propagation trays are supplied as required.
Xtract Plug Trays
Xtract Plugs® are made with a combination of peat, coco coir and a foam binder.
APPLICATION: The Xtract Plug® is perfect for the production of cuttings and tissue culture. The plugs can be used in the propagation and cultivation of annuals, perennials and tree nursery crops. The Xtract Plug® is available in trays of 45, 60, 84, 104 and 126 plugs per tray.
Xtract trays arrive on pallets sealed for moisture retension.