FlexiPlugs
FlexiPlugs® Give Young Plants a Stronger Start.
FlexiPlugs are created by blending the highest quality peat with other organics and a foam binder. The result is a stabilized propagation medium that promotes faster rooting for cuttings while providing the consistent moisture needed for seed germination.

This optimal environment is a result of the FlexiPlug's aeration and water retention capabilities. Our pH balanced plug also contains micronutrients and active biologicals so it has all the elements needed to promote healthy root growth and young plant vigour. FlexiPlugs are an ideal growing medium for traditional greenhouse and hydroponic growers. Plugs remain stable in hydroponic production and won't clog filters.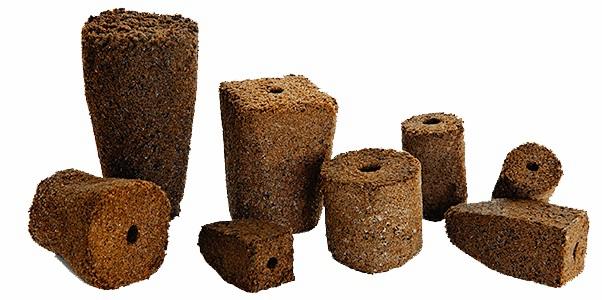 Cat's Eye Plug
The CatEyePlug provides easy transplanting of tissue culture starts and pre-rooted cuttings. The "eye" of the plug allows for the precise and rapid placement of small and delicate plant material, such as tissue culture, micro cuttings and other hard to start plants.
The plug's unique eye-shaped dibble makes it possible to open the plug with one hand. Once squeezed, the CatEyePlug opens and creates the perfect spot for the placement of your tissue culture. When you let go of the plug, it closes and holds the tissue culture plant perfectly in position.
Grower benefits
Earlier & easier transplanting
Faster rooting
Improved aeration
Custom formulations
pH balance
Uniformity in the greenhouse
High water holding capacity
Even dry down